Hey, folks! I am doing a different type of post today where I will recommend some things and in return, comment below some of your personal recommendations for the following things:
Books
Music
Food
Amazon products
and more!
Books
I used to be a huge reader when I was a kid. Now my reading mostly pertains to school and to school work. These are a couple of books I can read over and over again with how well written they are.
Happy Birthday, Wanda June by Kurt Vonnegut
This is technically not a book, it is a play. However, Kurt Vonnegut is one of my most favorite authors. A little about this piece is it revolves around a gentleman returning from war during the Vietnam war era and he comes home to his wife who is engaged to another man who is, what he views as, a pansy. His son idolizes him and there are many issues discussed such as capitalism, the patriarchy, women's rights, and so on. It's a relatively quick read, but it is just so refreshing in this day and age.
The Handmaid's Tale by Margaret Atwood
I am imagining that most of you have seen the show on Hulu, or at the very least, the trailers for the show named after this very book. I saw the first season and as well done as the show is compared to the book, the book is far better. Don't believe me? Read the book and then we will talk.
This book is set during the second American civil war where all fertile women are given the job title of hand maids to procreate children for the commanders and higher ups of the new regime. Offred (titled of and [insert the commander's name here]) is taken away from her own child and husband to fulfill this destiny as a handmaid so that the couples in power can have their own children and that is Offred's only purpose in this new regime. It's not just dystopian future though, there is violence, abuse, love, battles, you name it. It's got a little bit for everyone and who knows? It could be the U.S. when it all goes to shit.
Music
Music is what makes me feel whole inside. I will share just a couple songs with you all that I am digging right now. I have a very broad taste in music from Frank Sinatra, to Pink Floyd, to Led Zeppelin to the Clash. From John Mayer to Justin Bieber to Nathaniel Rateliff and the Nightsweats. Michael Buble to Kaleo to Stevie Wonder. It goes on. So here are three songs that are on my repeat list at the moment.
Chainsmoking by Jacob Banks
It's Oh So Quiet by Bjork
Feeling Good by Michael Buble
Recipes
Now I am not the greatest Chef Boyardee of all times, but I can throw around in the kitchen a bit; I can hold my own. I love to eat so out of necessity I cook a lot. I also mess up a lot, but most of the time my stuff is edible so ha! In your face! Below are my tried and true favorites.
Zuppa Toscana soup
Ingredients:
green kale
2 russet potatoes or a little bag of baby potatoes
spicy Italian sausage – ground
1 onion
16 ounces of heavy whipping cream
32 ounces of reduced sodium chicken broth
minced garlic
How to:
Get out a stock pot and put it on the stove on high. Pour some oil or butter in the stock pot and let it simmer a bit
Put in your one pound of spicy Italian sausage. Cook halfway through and put in diced onions and minced garlic and then finish cooking all three items.
Once the onions and meat are browned, pour in all of the chicken broth and pour in diced potatoes that you chopped prior to this. Let simmer for about 15 minutes or until tender.
Put in your sliced and diced kale in and simmer and stir pot for about 5 minutes. Pour in heavy whipping cream and stir a lot and then turn off heat. Voila! Soup!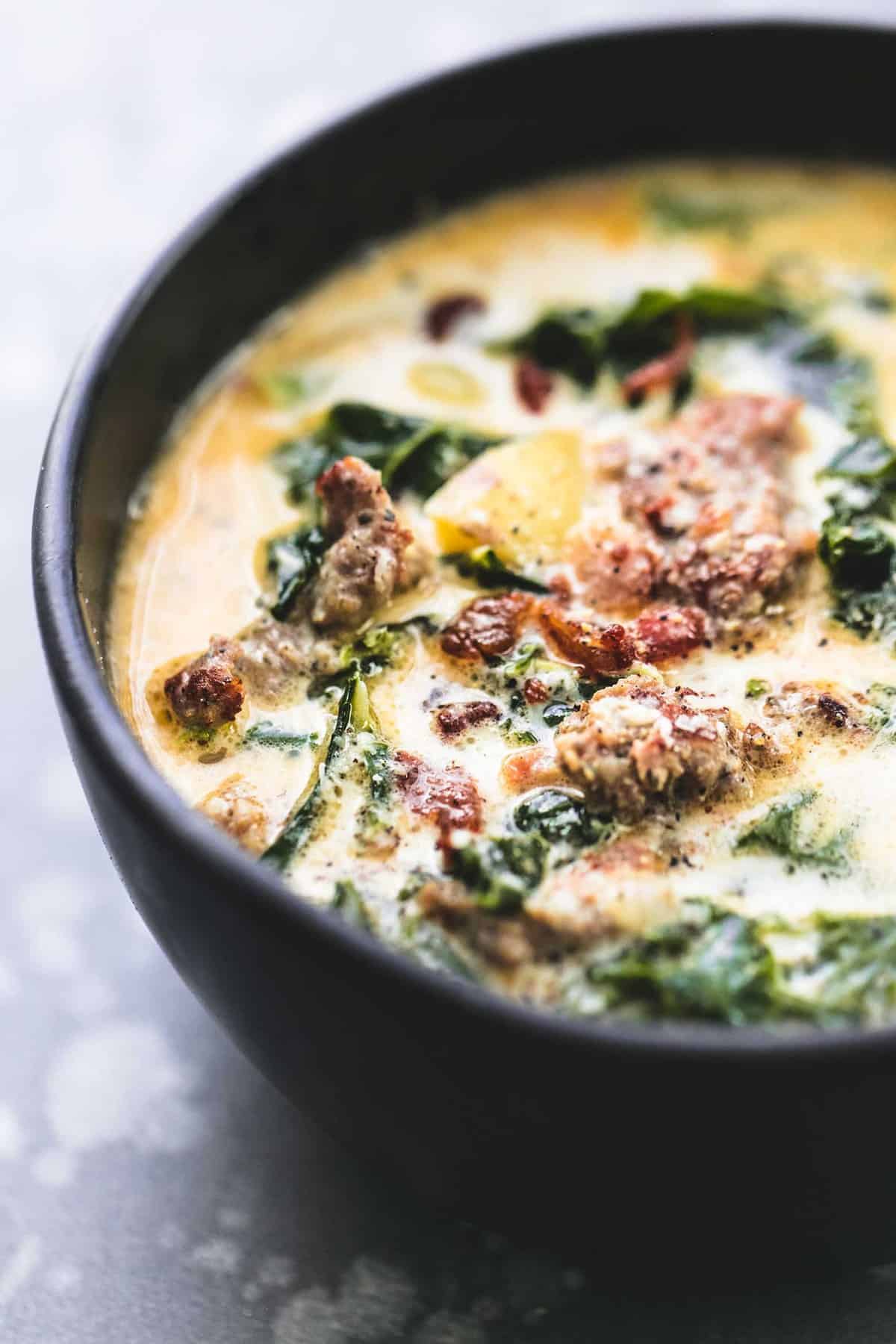 …
I just realized how long this post is! I will be doing continuation shortly so stay tuned.
Much love,
Dani
P.S.
Send me recommendations through email at theprecariousaquarius@gmail.com or comment below. I am happy to talk to anyone and everyone regarding just about anything!