Tis the season for trying to make new, yet different kinds of meals! If you didn't already know, I love to cook and although I'm not really one to try new things, I am attempting to broaden my own horizons as well as yours in order to make meals more interesting, filling, and fun for the month of December!
In my cooking, I am all about simplicity with a bit of elegance and pizazz. There will be nothing on here that either you can't make or will be too fancy for ya'll to eat, but will still have some flare to it.
If you like appetizers…
My favorite entree to make if I am making a multiple course meal is a knock off version of Olive Garden's Zuppa Toscana soup!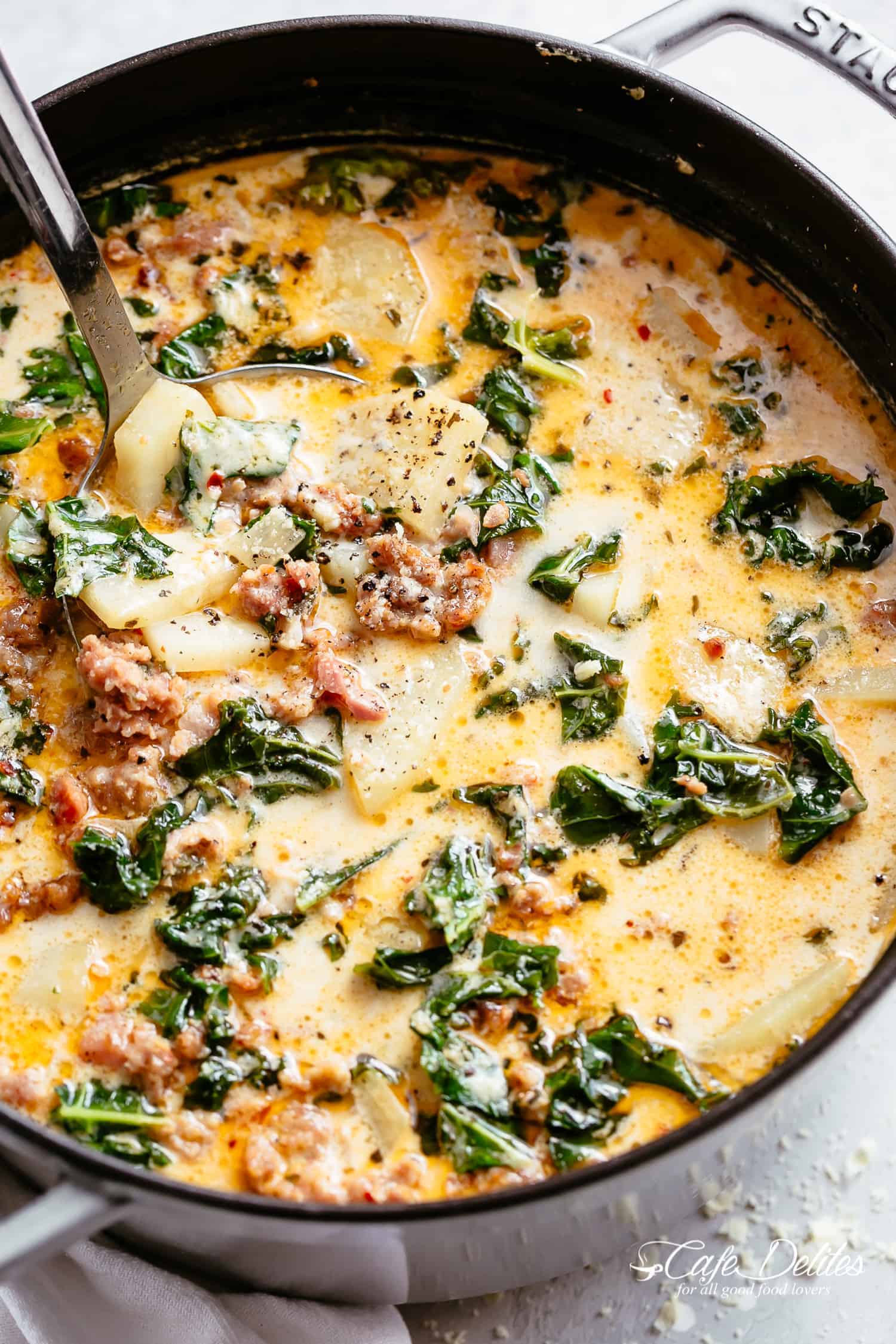 This is a one pot, sausage, kale, and potato soup that everyone is excited to eat at my house. I vary the portions and sizes a little differently than this recipe, but either recipe you follow, will turn out well.
Ingredients: one pound of spicy or mild Italian sausage, 4 cups or a whole bunch's worth of kale, as many or as little potatoes as you want (I use 3 large russet potatoes and dice them, but you can use any type of potato or go without), one onion diced, a tablespoon of minced garlic, 16 ounces of heavy whipping cream, 32 ounces of reduced sodium chicken broth, 1.5 cups of water, 4 strips of bacon (I like the peppered kind), and either a tablespoon of olive oil or butter.
Instructions:
-Put butter or olive oil in the bottom of a 5-6 quart stock pot. Turn heat on high and let it melt and spread all over the pan.
-Add bacon and sausage. Cook until browned.
-Add broth, water, diced potatoes, onion, and minced garlic to the pot.
-Cook until tender (20-30 minutes, stirring occasionally).
-Add kale and stir occasionally until tender (about 6 minutes)
-Then add heavy whipping cream and a little bit of cheese on top and boom! You're done.
If you like entrees…
Prime rib is one of my favorites, but unfortunately it is one I have yet to make for myself. But if you want an easy crockpot roast, this recipe that I've linked below just might be for you!
https://www.bettycrocker.com/recipes/slow-cooker-prime-rib-roast/bb08e958-b427-4be3-a47d-26f236763a16
If you like alcoholic beverages…
I love me some Hot Toddy's which are, for those who don't know, bourbon or whiskey with usually an orange flavored tea, all mixed together. That idea alone inspired me to try something different. I was making hot chocolate one day when I realized I could add a little bourbon to it. This led me to the following beverage…
Ingredients: hot cocoa powder, water, peppermint mocha coffee creamer, and your alcohol of choice. (I have only tried bourbon, specifically Heritage distillery's brown sugar bourbon).
Instructions:
-Boil water either in an electric tea kettle or on the stove
-Pour 1 shot of bourbon into a mug
-Mix cocoa, 2/3 cup of water, and peppermint coffee creamer. Stir and enjoy!
…
Hopefully this gets you thinking about what you're cooking/making this December!
Dani