I regret a lot of the purchases and spending that I have done being bipolar. It has become a long, slippery slope these past four years since my diagnosis. I have bought three vehicles, each more expensive and debt producing than the last, I have bought needless jewelry, spent tens of thousands of dollars on gambling, trips, and food, you name it, I probably have bought it.
In the words of my sister, "Dani, for being a poor person, you really do have expensive taste and nice stuff." It's true… I have the newest Samsung Galaxy S20+, a new Fitbit Versa 2, a 2017 Kia Sportage SX, bought brand new art equipment, a Canon M50 camera, with a sound boom microphone, lighting equipment, editing software, all for vlogging. The list goes on. That was all purchases within the past 10 months.
These have all been purchases I have done on a whim; I was manic and in need to fulfill something within my soul and I couldn't fill it with love, or my coping mechanisms. I filled the void with reckless spending. Not saying this is a great option. But even medicating, and using coping mechanisms, I can't seem to knock out my reckless spending habit.
But there are some things that I don't completely regret buying and this is a list of those items:
1. Magnetic Menu Board – $19
Pictured above in my home, this is the menu board that I use and rely on daily. I use it as a calendar, grocery list, note list, schedule, etc. I have had it about two weeks now and without it, I wouldn't be able to meal prep or effectively grocery shop.
It comes with four neon chalk markers. They are yellow, green, blue, and white. The markers easily wash off with a dry paper towel. It seems a little spendy for such a simple concept, but if you use it every day, and with Amazon prime (free shipping), what's 20 bucks including tax?!
2. Laptop Table – $35
These lap tables aren't your normal, portable tables that you can buy at your local Barnes and Noble! This Amazon find has an embedded cup holder, a place holder for your notebook or computer tablet, as you can use the smooth, swanky surface for laptop use, drawing, crossword puzzles, you name it! All from the comfort of your own bed, or couch.
I'm kind of cheap when it comes to buying things; I often purchase things used or second-hand to save money or find something unique in quality. But this wasn't an item that I could find second-hand. I could have bought something cheaper of the same concept, but I would rather spend the $10 extra dollars to buy something of quality and that will last rather than getting something that is less expensive and flimsier.
Plus this particular item has legs that have non slip grips on the corners so you don't have to set the table on your lap and you can rest your forearms on the table as you type, write, or draw.
3. Fitbit Versa 2 – $199
I can't get enough of my fitbit! I had bought the Fitbit Charge 2 from my sister probably 3 years back because she didn't like hers. So her loss, my gain. I used to walk about 20k steps a day at work when I worked for the shipyard, walking up and down those damn dry dock stairs and climbing around on the boats. Then I would work out or run so I was in pretty good shape.
After I got hurt at this job, I had to stop working out for the indefinite future. As a gift to myself for returning to walking this April, after surgery and extensive post-op physical therapy, I bought the newest Fitbit.
What intrigued me to this particular Fitbit is its ability to recognize your sleep patterns and then determine how well you slept that night.
As a person who has very irregular sleep patterns, it tends to say I have medium to poor sleep schedule. Through the Fitbit app, it tells you your sleep stages, along with other factors that contribute to good sleep such as restoration, deep and REM sleep, and time spent restless or awake. That all determines your sleep score, the higher the better.
Enough about sleep though. Fitbit obviously tracks your steps, floors climbed, heart rate, a way to log water and food intake, and can track female hormonal changes and track your period and ovulating times!
The device itself has Amazon Alexa, Spotify music and you can download many apps to your smart watch like "Am I Drunk?", an app that determines how long it will take for you to sober up based on your estimated BAC.
4. Canon M50 Camera – $599
The reason why I bought this camera is that it's meant to be great for vlogging since it has the flip out screen that you can turn toward yourself when recording videos. It is also great for selfies! The first day I got it, I went and visited Brent at work and utilized the selfie lens… hence my intense side eye lol and my lazy eye just comes included.
So the proof is there: Canon can make us regular folks look like movie stars.
5. Samsung Galaxy S20+ – $1,199
The Plus isn't that much bigger than the regular s20… it is just a bit taller. Even my small hands can navigate the plus with ease. It has a camera equivalent to my Canon, the 5G speeds are fantastic! There is no lag time at all and when I go to borrow my boyfriend's S9, I go crazy because of how slow it is in comparison. The phone is worth every penny.
I am very anti-iPhone and Apple products due to the fact that with Samsung products, it's a lot more versatile, has expandable memory, great customization. With Apple, you can't expand your memory and if you aren't constantly upgrading your device, it will become extremely slow and some apps and programs will stop running altogether. Plus you have the sticker shock because Apple can charge whatever they want for a device with their name so. Apple leaves a bad taste in my mouth.
Although Samsung is getting up there in prices, they are being competitive with the market, but with all the specs and features, you truly get what you pay for.
https://www.samsung.com/us/mobile/galaxy-s20-5g/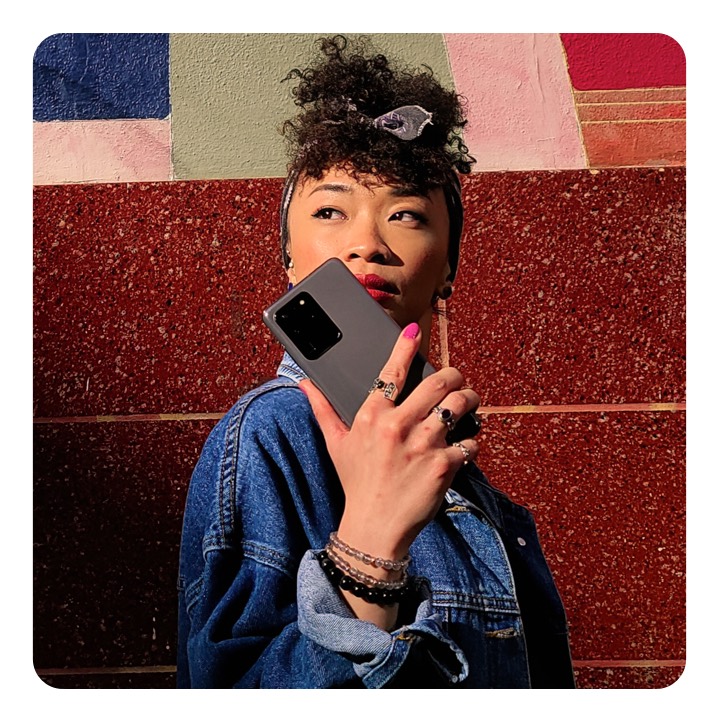 So sometimes I buy stupid shit. Well often times I do. But here's to the 5 times I didn't *completely* regret spending so much goddamn money.
Cheers and Happy Shopping!
Dani